Are your floors covered with water? Has your property suffered from a flood, plumbing emergency, or the aftermath of a building fire? Regardless of the cause of your damp conditions, we can help! For professional water damage restoration services in the Port St. Lucie area, call us at Sani Tech Environmental. With over 13 years of experience in the business, we understand that every minute counts when it comes to fast response time and taking immediate flood restoration measures. If you have water problems in your home or commercial building, our team of flood water damage restoration specialists will rush to your location to begin the drying process.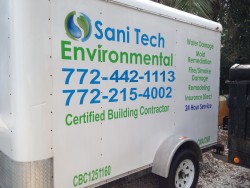 In spite of the many ways water benefits us all in our daily lives, it also has a destructive side. Standing water in your home or business can have a devastating effect on floors, walls, and ceilings, not to mention furniture, personal property, and other valuables. When you choose our water damage restoration company to handle your flooding emergency, you can count on us for fast, effective, and compassionate service. After quickly arriving on the scene, we'll use a combination of effective techniques to dry your floors, walls, and other affected surfaces, including:
Water extraction
Dehumidifiers
Air scrubbers
Anti-oxidation
Thermal energy drying
Our primary objective at Sani Tech Environmental is to provide you with prompt and effective water damage restoration service. When our flood damage specialists arrive at your home or commercial space, we'll quickly size up the situation and begin to dry out the premises. As a service-oriented water damage restoration company, we're always available to answer any questions you might have and do what we can to ease the stress of a potentially devastating situation. Whenever possible, we will bill your insurance company directly for your convenience.
Flood Damage Expertise
You can put your complete confidence in our team of trained flood damage professionals. In addition to our knowledge and practical experience, we've also earned certification from The Institute of Inspection, Cleaning and Restoration Certification (IICRC). Our staff is certified in water damage restoration and applied structural drying. We take pride in our diligent workmanship, speedy response time, and our use of the latest and most effective techniques for flood restoration. At Sani Tech Environmental, we'll go the extra mile to help you cope with the crisis, minimize damage to your property, and avoid additional problems like mold growth. For service and efficiency that can't be beat, call us today for immediate help in Port St. Lucie and the region!